Europa Universalis IV: Cradle of Civilization - Collection (NEW)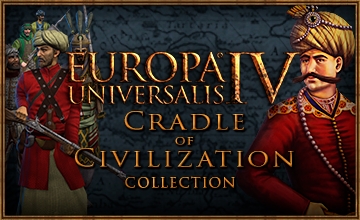 The Cradle of Civilization Collection includes both the Cradle of Civilization expansion for Europa Universalis IV and the associated content pack.

Cradle of Civilization introduces a host of new mechanics and opportunities, focusing on the Near and Middle East, as well as central Asia. The Mamluks of Egypt, the Turkoman tribes and Persian states get new governing decisions. Merchants can undertake new missions in their trade nodes, and armies increase their professionalism over time, as well as changes to Islamic governments and religion.

The Cradle of Civilization Content Pack includes new unit models for the major powers of the region, including Persia, Gulf States, the Kurds, and Afghans, as well as dozens of male and adviser portraits and a new music pack.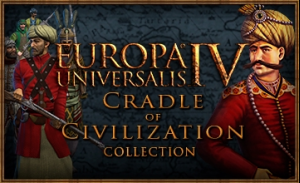 Platform

İşletim
Sistemi

Tür

Geliştirici

Paradox Development Studio

Yapımcı

Paradox Interactive

Yaş Sınırı

DRUG REFERENCE+

Çıkış Tarihi

2017-11-16 14:00:00

Desteklenen Diller

English, French, German, Spanish
eTail.com.tr, Dijital Oyun Kodları, Hediye Kartları, Yazılım Lisansları, E-Kitaplar ve Daha Fazlası
Bütün dijital ihtiyaçlarınızı karşılamak için tasarlanmış dev bir platform!
Sektörde uzun yıllar devam eden tecrübemizi,
oyuncu topluluğuna aktarabilmenin heyecanını yaşıyoruz.
Dijital Oyun Kodlarından, Hediye kartlarına, Oyun İçi Ürünlerden, Yazılım Lisanslarına ve hatta E-Kitaplara kadar geniş ürün kataloğumuza bir tıkla erişebilirsiniz.
Microsoft, Netflix, Google Play, iTunes, PUBG, Zula, Valorant gibi yerli ve yabancı birçok markanın ürününü resmi distribütörler aracılığıyla, hızla ve güvenle satın almak ve sürekli yenilenen kampanyalarımızı kaçırmamak istiyorsanız takipte kalın!